Baldi's Basics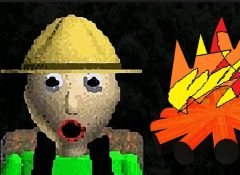 About game
Do you like games, which send you back in time and remind you of school days? In a super cool game Baldi's Basics in Education and Learning you can try your hand in math problems solving. How, it doesn't sound too interesting for you? You think that math is boring, and educational games are not for you? Then you should try Baldi's Basics, because this horror game is very interesting, and you will find plenty of hilarious moments in the game. For instance, how would you feel while talking to a broom? This is very funny, and this game has very little educational impact, but a lot of fun in it.
This game has very simple graphics like from the games of the early 90s. This may be rather weird, but you will like the style, which will remind adults about their childhood and first games, which they played. Yet, Baldi's Basics will be interesting for all generations, and you can try to understand why right now. This indie game has a very little educational point, but a lot of horror moments. The key point here is in looking for notebooks, while are scattered all over the campus, and you need to find all of them. Each notebook contains three tasks, which you have to complete, but this is not too easy. Every notebook contains false problem, which doesn't have a solution. Is it too bad? Yes, it is, because your professor will get really, really mad.
Every mistake will make your professor furious, and no matter how hard you try, you will make a mistake. After a certain number of mistakes a game will turn into an awful horror and your professor Baldi will try to kill you, using his ruler. You need to escape from him, but he has a lot of friends inside of school and they will do everything to stop you. Those creatures may be absolutely crazy, but nice appearance shouldn't deceive you. Various scenes can make you shiver, and you will need all your bunch of nerves to stay cool and win the game. Baldi is a very serious man, but he isn't almighty, so if you get out of school, you will become invisible.