Baldi's Basics Plus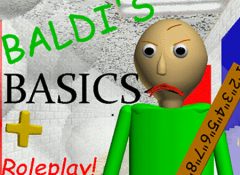 About game
Do you remember Baldi? Now you are welcome to enter a new sort of anti-Baldi struggle, which has a nice word Plus in its title. As you can understand, this means new content and even more horror than ever. The game keeps up with its adorable original style – it parodies the educational games from distant 90s, when the graphics were so week that the games looked really creepy. In the expanded version, you will find more features than ever. The main one is a huge collection of levels that are generated in the real time. There are also small side-games and strange situations that will make you burst from laughter or jump on your chair being scared to death. And, of course, new characters cannot wait to meet you. And terrorize you like never before.
In the game, you will enter the school of Baldi that is now much larger than it used to be. Explore the environment, find some helpful things, and discover the new experience the game has to offer. Again, you are going to collect the special items – note books, where the tasks are written for you to solve. Spoiler – they are impossible to tackle, which never stops your mad teacher and he will be angry at you every time you fail to meet his strange expectations. Baldi is chasing you all around the school and he can hear you moving and even breathing. When you meet him anywhere in the corridor or cabinet, you'd better run – he is here to bring so many troubles to you.
At the same time, when you really get into these troubles and find out more about your enemy as well as his plans and behavioral patterns, you will be armed! This will help you learn how to deal with this math monster next time. The school is all covered with traps as well as useful things – you should find and gather as many of them as you can. This will help you hide and run from your enemies. The objects are very important in this installation of Baldi – they will guide you through the horrible adventure and help you survive. Use these objects to your advance and make sure to have a plan – this will give you a real superiority over crazy teacher and his creepy friends!